Different Cultivars
From the family of Solanaceae. Genus of evergreen or semi-evergreen shrubs, trees and annuals.

For centuries a controversy has raged over the two, now agreed, different species DATURA AND BRUGMANSIA. Daturas (Thorn Apples) are nearly all annuals. They grow prickly seed pods of differing sizes and shapes which open during ripening and have upward pointing flowers. Brugmansia are perennials. They have woody stems and can grow into large trees and bushes up to 26' (8m) high. They are long lived and can live for several decades. Flowers are nodding and pendulous. The seed pods are smooth, of differing sizes and shapes and do not open during ripening.
Angels Trumpets
These plants are mainly from Tropical and Sub Tropical climates where they grow in the wild. They need to be kept frost free but survive in Southern England with some care throughout the Winter. They make excellent Patio Plants and are exceptional in Greenhouses and Conservatories and can grow extremely large.
In the past these plants have not always enjoyed the recognition they deserve and have been associated with witchcraft and child sacrifice. This is due to the fact that a hallucinatory drug was produced from the leaves and flowers. All parts of these plants are toxic if eaten.
In the Victorian age they were extremely popular in Conservatories and Stately Homes. They produce a wonderful perfume mainly in the evening.
X Candida:
Evergreen shrub with pendulous, fragrant flowers to 30 cms in Summer/Autumn, white single or double form. Grows to 5 metres. Leaves 30/50 cms long, oval.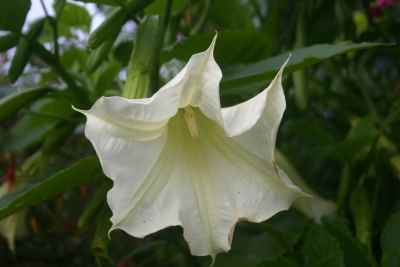 Suaveolens:
Native of Brazil, leaves to 20 cms, oval – elliptic. Flowers white to 30 cms long, funnel shaped narrowing just above 2-5 toothed calyx.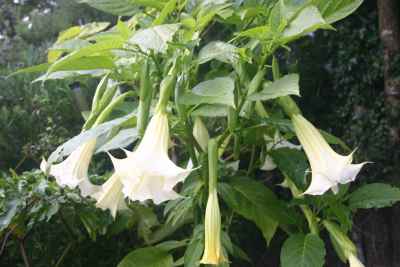 Sanguinea:
Native of Columbia, chile. Evergreen shrub with tubular red, orange, yellow flowers late Spring-Autumn to 10 cms, scentless, almost cylindrical with a short recurved rim, calyx inflated. The showiest and most vivid of the species. Very vigorous and produces many side shoots.
Only available as plants in spring and summer.